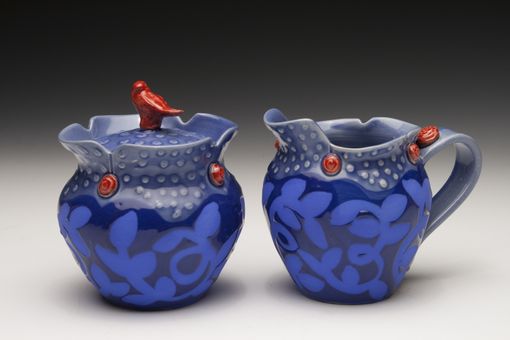 Approximately 3.5 inches in depth at the rim, 4.5 – 5 inches in width around the hips, and 4 inches in height each

Available in: French Blue/Cobalt, French Blue/Turquoise, Forest Green/Turquoise, Amber Brown/Turquoise, White on White and White/Turquoise.

This set will bring about a smile in just about anyone. The lid of the sugar is a sweet resting place for a curious little red bird has an elegant design underneath and the handle of the creamer fits comfortably in your hand. The little red rosettes on the set are cast from my late grandmother's buttons and red to not only accent the piece but also because my paternal grandmother had a hot and spicy personality. The lush vine design is done free hand and a glossy glaze lay over a matte velvety texture. All Liz Rodriguez Ceramics tableware is microwave and dishwasher safe.