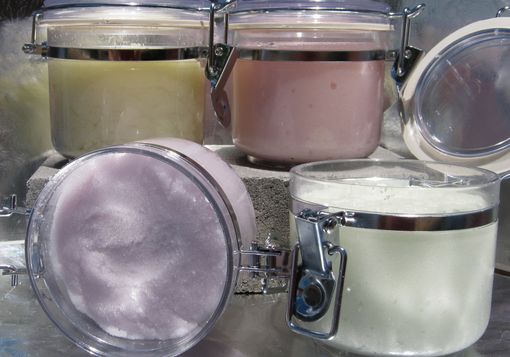 We worked long and hard to develop this amazing scrub. It's packed with beneficial skin nourishing oils and butters, but......it's not liquid! With regular liquid scrubs we felt that so much of what you were scooping out of the jar was literally running down the drain.

We whip up our specail oil and butter blend to bring it to a luxuriously fluffy consistency. Then we add our crystalline sugars to make it supremely scrubby. Scoop just enough to hold comfortably in the palm of your hand and scrub your way to clean and highly moisturized skin. As always, these products do not contain FD&C dyes, we use only mineral colorants.

In addition to scents that coordinate with several of our soap and Whipped "Body" Cream fragrances (Luscious Lemon, Petite Gateau (sweet cupcake), Lime Libation, Pristine Peppermint, La Galette des Roi (almond rum) and Creme Creamsicle) we also have Lounging Lavender made with a pure essential oil. Sugar Scrub Rub is also available unscented. If there is a particular scent you were hoping for, from our soap or bath fizzy lines, please contact us via comments and we can whip it up for you.

Our products are always paraben, phthalate, SLS and SLES free. In addition, these scrubs are gluten free. MADE IN THE USA.

Ingredients: Sucrose (Sugar), Vitis Vinifera (Grape) Seed Oil, Prunus Amygdalus Dulcis (Sweet Almond) Oil, Butyrospermum Parkii (Shea Butter) Fruit, Emulsifying Wax NF, Stearic Acid, Beeswax, Simmondsia Chinensis (Jojoba) Seed Oil, Preservative (Phenoxyethanol,Caprylyl, Sorbic Acid) Fragrance, Mineral Colorant (Titanium Dioxide, Mica, Oxide)

WARNING: SOME INDIVIDUALS WITH NUT ALLERGIES MAY HAVE A REACTION TO SHEA BUTTER. NOT INTENDED FOR FACIAL USE. NOT EDIBLE. SUPERVISE CHILDREN TO ENSURE THEY DO NOT INGEST. DO NOT STORE ABOVE 90°.