Sunflower Reflections - 36"X48"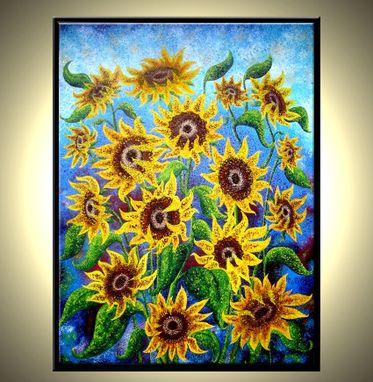 Original Sun Flowers Abstract Impressionist Yellow Impasto SUNFLOWER Blossoms Landscape Wildflower Art Textured Stippled Pixelated Pointillism PAINTING by Lafferty 48x36 - IN STOCK AND READY TO SHIP

Painting Details:
This piece was created using my stippled (pixelated) brush stroke technique. Countless hours and over 100,000 stippled brush strokes went into this painting!

Painting Details:

Artist: Dan Lafferty
Title: "SUNFLOWER REFLECTIONS"
Media: Professional Grade Acrylics on Canvas (Stretched)
Size: 48" Tall X 36" Wide X 3/4" (depth)
Est. Gallery Price: $3999.00 - Certificate of Authenticity Included
Notes: Ready to hang - PRE-WIRED and Fitted Into Custom Frame, FRAME INCLUDED!


About The Painting:
- Dominant Colors: Textured Yellow Impasto Flowers, Titanium White, Light and Dark Blues, Creams, Greens, Purple, Brown, and a touch of Red and Orange in the blossoms on a Huge 48" Tall X 36" Wide and 3/4" Deep Gallery Stretched Canvas and Fitted Into a Custom Frame.
- This is ORIGINAL Gallery Size Palette Knife Painting, not a print of any kind.
- The painting has been signed by the artist on the back.
- Edges Are Staple Free (Stapled On The Back) And Painted, The sides of the artwork are painted and the piece has been fitted into a custom frame. Frame Included!

- This is a COMPLETED piece. This painting is IN STOCK and READY TO SHIP. Completed paintings usually ship within 2 business days.
____________________________________

Style: Van Gogh, Monet, Seurat, Impressionist, Impressionism, Impasto, Sunflower, Sun Flowers, Yellow Flowers, Floral Painting, Flowers, Landscape, Garden, Wild Flowers, Floral, Contemporary, Textured, Reflective, Abstract, Yellow blossoms, Original Modern Abstract textured impasto landscape, palette knife painting
All of our products are handmade
by expert makers.