Superwash Wool Roving In Mulberry And Raspberry, 2 4-Oz Braids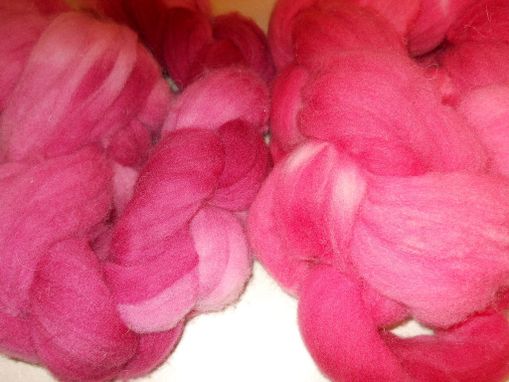 Monochromatic variation is often a way to get depth in the finished product when spinning a dyed roving. These braids can be sold as a pair to provide you with enough yarn for a bigger project.
This hand-dyed Superwash wool is mainly Columbia and Rambouillet, from Brown Sheep Company in Nebraska, western "wool pool." As Superwash, it cannot be felted, but it's a versatile, soft, bouncy wool that is soft enough for a scarf next to your neck, ideal for items such as children's clothes or other items where machine washable capabilties may be ideal.
There is slight variation in the dye process of each braid but all within the same tone. The two colors are harmonious together. If I were spinning them, I would probably spin singles of each and ply together for a yarn that would have a lovely mild variation in color, not enough to shout at you but enough to give depth of color in the finished product. This wool does spin easily, making this an ideal choice for newbies and also for those of us who just need a break now and then from the challenging stuff. I like it in a bulky weight lofty yarn, but it is versatile enough to entertain whatever you want.
This listing is for two 4-ounce braids or 8 ounces total.