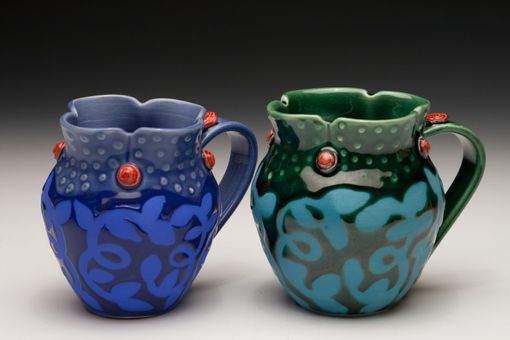 Approximately 3.5 inches in depth at the rim, 4.5 – 5 inches in width around the hips, and 4 inches in height

Available in: French Blue/Cobalt, French Blue/Turquoise, Forest Green/Turquoise, Amber Brown/Turquoise, White on White and White/Turquoise.

These mugs are designed to fit sweetly into hands and so comfortable on your lip! The clover design of the rim pours your yummy coffee, tea or hot chocolate perfectly into your mouth. The little red rosettes on the mugs are cast from my late grandmother's buttons and are red to not only accent the piece but because my paternal grandmother had a hot and spicy personality. The design is done free hand and a glossy glaze lay over a matte velvety texture. All Liz Rodriguez Ceramics ware is microwave and dishwasher safe.