Swinging Easy Chair Earrings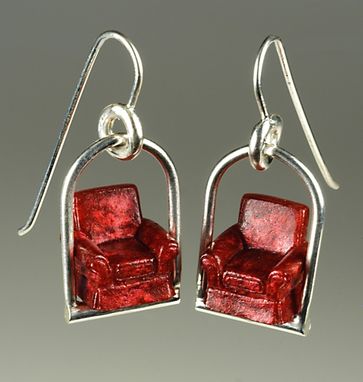 2Roses is a collaboration of Corliss Rose and John Rose. Many people have wondered about the name. It made no sense to call the pair 3Roses, and after 42 years, the name 2Roses has stuck. But you can call them Corliss and John.

Both Corliss & John have been working artists since childhood, and are the products of an old world traditional arts education. This is simply because they are old and the world was older then. They are now living in the new world and really like electricity and stuff.

Over the centuries the two have established a style that defies definition, except that it is eclectic, unpredictable, irreverent and often humorous. 2Roses work often combines wildly unorthodox materials and themes to create jewelry that is, er… different. Some even deem their work "interesting" in a quizzical way.

2Roses jewelry isn't for everybody. It doesn't even try to be. But don't be surprised if one of their pieces "speaks" to you. You'll know it when you see it.
Love them or hate them, one thing is certain. Walk into a room wearing a 2Roses piece and you WILL be noticed.

Disclaimer: 2Roses is not responsible for unwanted attention at social events, parties, political rallies, weddings, bar mitzvahs, birthdays or ship launchings.
Dimensions: 2.5 inches high