Table Lamp - Small Accent Lamp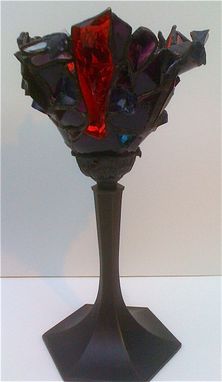 Do you love the color purple? Then this is the lamp for you! This lamp is made with chunks of Dalle glass, in shades of red, purples, violet and some purple found object glass. It will create a glow in any room in your home that is sure to delight your eyes and heart. What a great addition to your meditation space to bring in the higher vibrational energy! Each piece of glass is surrounded in copper foil and it was soldered together piece by piece. This contemporary lamp would be great in any home that loves color and light!
Dimensions: 14" x 8" x 7"