Table Lamp - Small Accent Lamp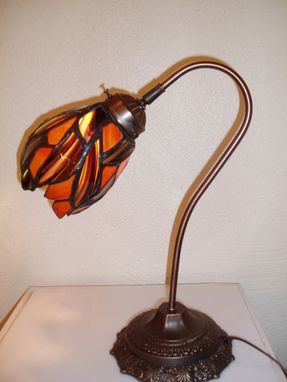 This is a Gooseneck table or desk lamp. I have one next to my bed and it is a great lamp to read by or for the early mornings when you want a gentle light on for your sleepy eyes to adjust to. The glass in this is hand blown and has various greens, beiges and browns contained it. The glass pieces are surrounded in copper foil and soldered together one by one. It is the perfect bedroom lamp or by your computer or writing desk. The colors are incredible and they would fit any earth tone decor. The goose neck base has a swivel at the light attachment , and a bronze patina, with an inline switch. This base takes a standard 40 watt bulb.
Dimensions: 16" x 11" x 7"