Table Lamp - Small Accent Lamp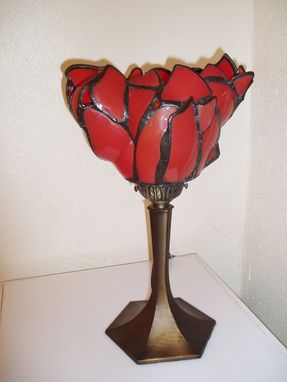 This accent lamp is made of blown glass pieces that have varying shades of red or warm salmon colored glass. The blown glass shards have the edges ground and a copper foil is wrapped around each piece and then it is soldered together piece by piece. This would be a great lamp for a bedroom or living room. The colors are deep and rich and the light quality is very soft on your eyes. The style is contemporary, it is has a flower like shape but it would fit into any decor.
Dimensions: 15.5" x 9 " x 6"