Table Lamp - Tiffany With A Twist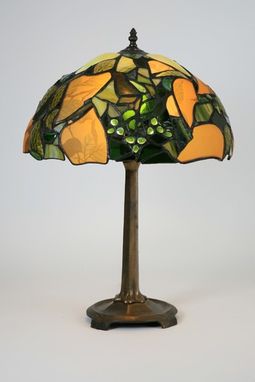 Living with a glass lamp such as this is such a delight and is soft on your eyes. This tiffany like lamp would look fantastic in you living room or bedroom and would add inviting warmth to your home environment. The lamp contains different shades of green, olive greens, forest greens, golds, and pear colors. The piece is made up of flat glass pieces, antique glass leaves, found objects, slumped glass, and sandblasted multiple layered glass. It is soldered together piece by piece using the same copper foil technique Tiffany used on his lamps. Between the pieces is a copper reinforcement strip to add years of stability and good construction technique. The lamp is a tiffany style but with a modern contemporary flavor.
Dimensions: 24" x 15" x 15"