Tall Vase ~ 11" High ~ Cost $68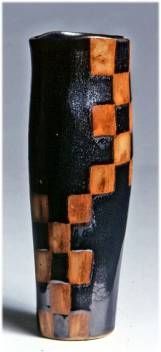 .Slip cast stone ware form a wheel thrown and then altered form. All made by me. The vase is then fired and the hand painted design is applied. It is then fired to a high temperature, providing an attractive, durable surface for many years use.

It's perfect for that bunch of that some one brings you unexpectedly. It still looks good empty.
Dimensions: 11:\" H x 4,5" W