Tension Set Diamond Crystal And Meteorite Pendant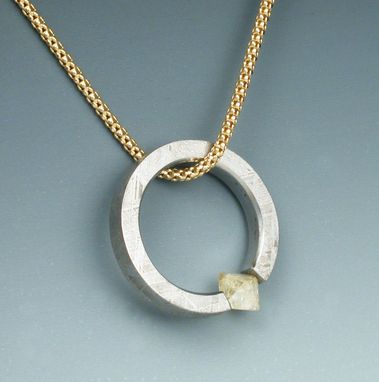 This simple, sliding pendant is made from a solid ring of Gibeon meteorite that has a tension set uncut diamond crystal. The meteorite has been etched with nitric acid to reveal the characteristic patterns, or Widmanstatten figures, of iron meteorites. It is shown on a gold chain, which is not included.
All of our products are handmade
by expert makers.
Mark W.'s review

• Nov 6th 2016

It was absolutely prefect! Very professional job with clear communication and excellent quality!
I couldn't be happier!

Ove Knudsen's review

• Feb 18th 2014

Metamorphosis Jewlry Design and John Biagiotti makes beautiful jewlery.

Service, communication and timeliness was brilliant

I can wholehartedly recommend this maker to any potential customer

Ove Knudsen