The American Sign Language Alphabet-Teal Blue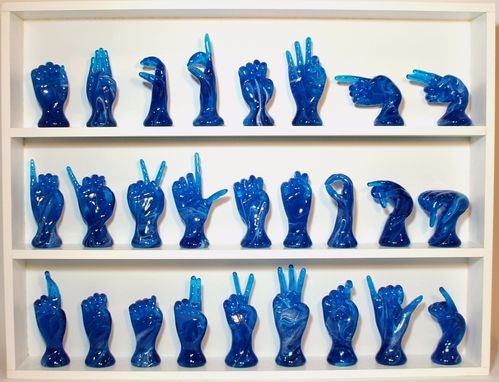 Two years ago I felt a need to create a public art piece for our local hospital. I wanted something that everyone could relate to, and maybe spend some time to look at while sitting in the waiting room. I thought something educational and universal in meaning would be appropriate. I was also watching a public TV program called: "Signing Times" with my young daughter and son.
The idea to create the sign language alphabet was also born out of this because I had started sculpting hands out of molten glass a few years earlier. It is also significant in that I am a man who works with his hands on a daily basis, and having suffered a permanent injury in my right hand as a result of an accident grinding glass a decade earlier, I am sympathetic to others with disabilities.
This is the second version I have made of this sculpture and is now on display in a private residence in Washington State.

Each hand is individually sculpted "off-hand" on a blowpipe, and colored teal blue.

Dimensions: 36" x 24" x 4" deep