The Beauty Flows Out Of Me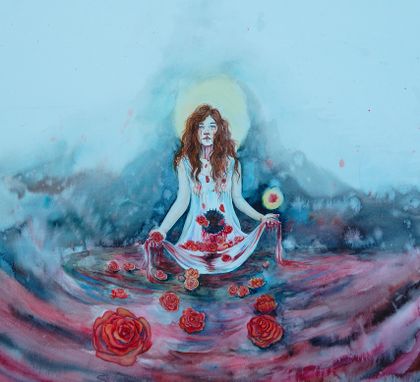 Sometimes I just have to paint my feelings, to express my deep sorrow using art. Images are so much more powerful than words. After my miscarriage, the song "Whispers in the Dark" by Skillet has a beautiful line of verse that talks about turning tears to roses. It made me think of how, maybe one day, my tears would turn to something beautiful.
This is a version of me, a self-portrait of my heart after the death of my child. She cries tears of blood but they turn to roses. There's a hole in her belly where a baby should be. The rose in her hand is the soul of her unborn child. She stands in a sea of the blood flowing out of her, the beauty of a life that now cannot ever be realized.

watercolor on paper, 22x20 inches.
All of our products are handmade
by expert makers.