'The Excursion' Kayak Kit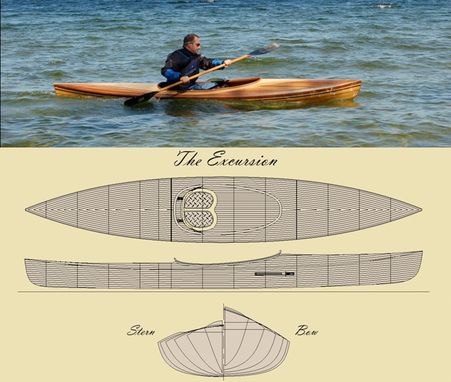 The Excursion is a beautiful, lightweight kayak designed to be used in a recreational setting such as day trips on inland lakes and quiet water. It is a stable, predictable handing kayak suitable for all ages and abilities. The large cockpit opening provides a great deal of comfort when left open, but can also accept our largest spray skirt for paddling in foul weather or sheltered ocean coves. This kit can also be modified to have a smaller cockpit opening and includes fore and aft bulkheads.
The Newfound Ladder-LOC Strongback is a new method for assembling the forms of a kayak onto the strongback, or, backbone of a cedar strip kayak. Following the guidelines of the assembly system, the amount of time to construct and assemble a Newfound Ladder-LOC versus a traditional 2x4 box beam strongback is reduced from approximately 8-10 hours to 1 ½ - 2 hours, greatly simplifying the process and eliminating a large amount of error. The Newfound Ladder-LOC Strongback is comprised of forms and brackets manufactured from Medium-Density Fiberboard. These forms and brackets are interlocked and when fully assembled, provide a stable building platform for a strip built kayak.
Dimensions: Length (LOA) 12.66" Length (LWL) 12.28" Beam (BOA) 25.3" Beam (BWL) 24.13" Weight 35 lbs. Displacement (Capacity) 250 Draft (at Capacity) 4.33 Foredeck Depth 12.95" Depth at Bow 12.99"