The Goddess Lakshmi, Mixed Media Decorative Icon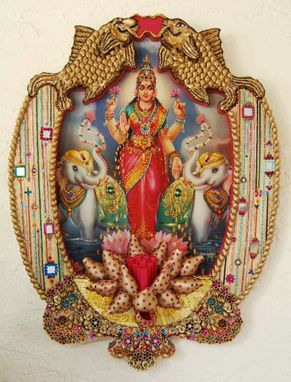 2007
Mixed Media
22" x 14" x 6"
This is Laxmi, made for my pal, to decorate her Yoga studio. Laxmi is the Hindu goddess of prosperity, good fortune and beauty. She is emerging from a 16-petal lotus, which is the best kind of lotus in Hindu iconography. It's a really elaborate icon--the possibilities are endless with gilded pasta!

This icon is made from wood, pasta, mirror tiles, rhinestones and glass beads & paper.