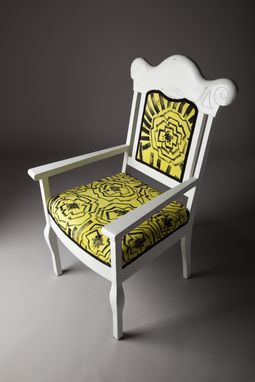 Hand painted with an abstract floral print in citron with black detail, finished with traditional gimp trim, The Joker has a new coat of semi gloss white lacquer, and has been rubbed in places to give a distressed look

The dings and dents of their history have been intentionally left behind. We're not trying to produce new furniture. We're giving new life to old and recycling.

60 % hemp and 40% silk. This fabric has a subtle sheen and a silky smooth finish.

Dimensions: 39highx21deepX22wide