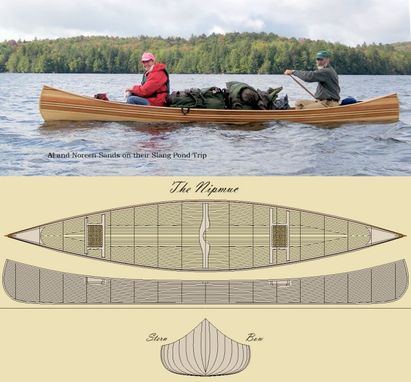 We named the Nipmuc and Abenaki in honor of the Native Americans who once paddled and fished the inland waters of southern New England. They are loosely based on old Maine canoe designs with traditional re-curved stems and slightly flatter bottoms than the old designs originating in Canada for greater initial stability. One can imagine these canoes packed with a week's gear for the ultimate paddling adventure.

Formerly named the Abenaki 17', the Nipmuc has better straight line tracking, while the Abenaki features more rocker, making it more maneuverable. Both canoes are fairly beamy with a large capacity and good stability.
Dimensions: Length 17' Beam (BOA) 35.9" Beam (BWL) 33.8" Weight 62 lbs. Displacement (Capacity) 550 lbs Draft (at Capacity) 4.95" Center Depth 12" Depth at Bow 21.5" Rocker 1.25"