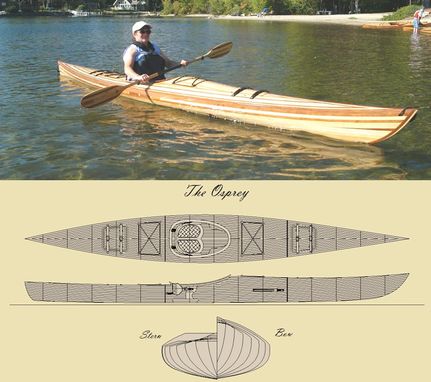 The 15'-9" Osprey is an exceptional touring boat for the smaller paddler, or, a great day tripping kayak for the small to mid size person. The sleek hull has low drag making it a very fast boat for the length; it responds to input from the paddler with very little effort. This is an excellent, proven design.
The Newfound Ladder-LOC Strongback is a new method for assembling the forms of a kayak onto the strongback, or, backbone of a cedar strip kayak. Following the guidelines of the assembly system, the amount of time to construct and assemble a Newfound Ladder-LOC versus a traditional 2x4 box beam strongback is reduced from approximately 8-10 hours to 1 ½ - 2 hours, greatly simplifying the process and eliminating a large amount of error. The Newfound Ladder-LOC Strongback is comprised of forms and brackets manufactured from Medium-Density Fiberboard. These forms and brackets are interlocked and when fully assembled, provide a stable building platform for a strip built kayak.
Dimensions: Length (LOA) 15.75" Length (LWL) 14.76" Beam (BOA) 24.33" Beam (BWL) 23.75" Weight 42 lbs. Displacement (Capacity) 250 Draft (at Capacity) 4.43 Foredeck Depth 13.04" Depth at Bow 14.45"