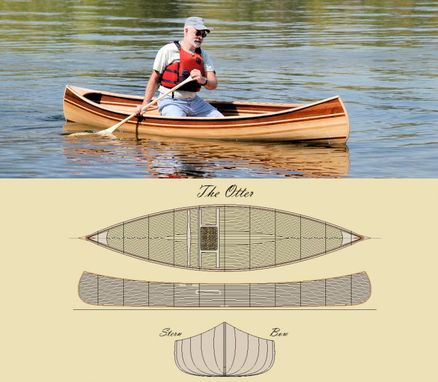 The Otter design was created for us by Hans Friedel of Sweden. He also designed our kayaks, the Osprey, Spirit, Sea Wolf, and Excursion. Like an Otter in the water, this canoe is meant to be a play boat. This is a lightweight (35 lbs), easily portaged solo canoe that can be paddled with a traditional canoe paddle or with a kayak paddle. It is deeper than a Wee Lassie canoe so the seat is attached to cleats that are epoxied to the inside of the hull. However, the bow and stern heights are such that you shouldn't be pushed about by the wind.

A larger paddler will find that it has plenty of capacity. One could even take their Retriever or a small child and still feel very comfortable. We advise inclusion of a keel in it's construction to improve tracking with lighter loads.
Dimensions: Length 11'8" Beam 32-1/2"" Weight 35 lbs. Displacement (Capacity) 340 lbs Draft (at Capacity) 4.69" Center Depth 11.34" Depth at Bow 17.17" Rocker 1"