'The Rangeley 15' Row Boat Kit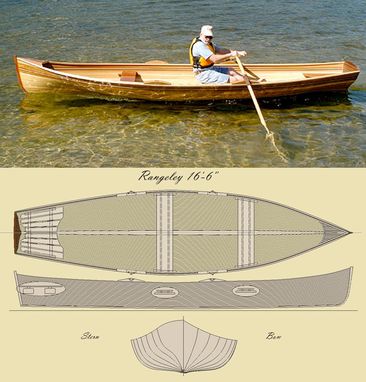 "The Rangeley Boat is a distinctive American sporting boat that has been in use on the Rangeley Lakes of Maine for something like 100 years, and was well known to past generations of fishermen for its numerous excellent characteristics. It was not limited to the Rangeleys, for by 1900 it was in common use by fishermen on the Belgrade Lakes, on Sebago Lake, and on other lakes in western and southern Maine." from Building Classic Small Craft, Vol. 1 by John Gardner.

This Rangeley was designed by the Newfound Woodworks. It is based on offsets from the John Gardner book, Building Classic Small Craft. . The original Rangeley boats were cedar lapstrake construction with ribs on the inside. Our version is cedar strip-built with epoxy resin and fiberglass cloth providing strength and protection.

We created this version of the Rangeley by lengthening the Rangeley 15. This provides a longer hull length than the 15' version but maintains the narrower 46" beam. Normal forms spacing is 12". To get the 16-1/2' version we provide the 15' forms and the builder spaces them at 13". This extra spacing between forms isn't enough to provide any construction problems but is a simple solution to a longer, yet narrower version of a great design. To accommodate this, we provide a plan sheet for the 16-1/2 that shows the correct spacing using the 15' forms.
Dimensions: Length 16'6" Beam (BOA) 46" Beam (BWL) 41.25" Weight 105 lbs. Displacement (Capacity) 725 lbs Draft (at Capacity) 6.5" Center Depth 13.99" Depth at Bow 22.45"