The Scream In Monochrome Chenille Wall Hanging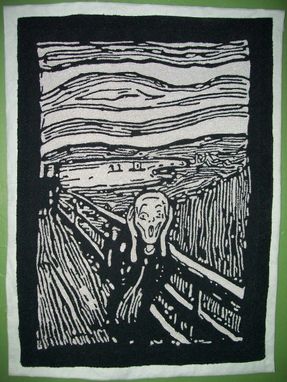 I wanted to make a wall hanging that was fine art with dimension. Since all the best nightmares are in black and white, I thought The Scream should be monochromed. I took a public domain photo and ran it through first a B&W filter, then fine tuned with a monochrome filter to get as much detail as possible of the original. I printed several sheets of cotton muslin, put the sheets on a sturdy by soft gray felt, and then chenille chain embroidered every detail. I then went over everything in chenille moss stitch. I added a couple more layers of felt to the finished piece for stability. It's about 27 inches wide and 36 inches tall. It's the first thing people see when they come i my front door, and it never fails to start a conversation. I have made this in the original colors also. That takes much longer due to all the color changes, but I was extremely pleased with the result, and it made a pretty cool wedding gift.
All of our products are handmade
by expert makers.