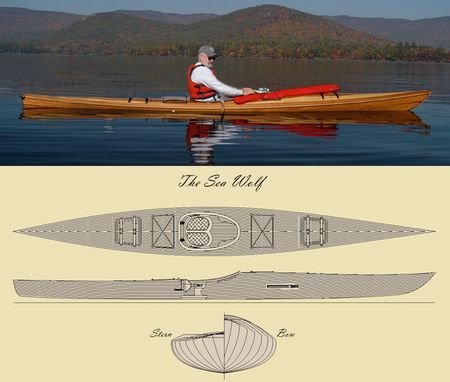 The 17' Sea Wolf has many of the same design characteristics of the Spirit, but with a slightly beamier, more forgiving rounded V-hull, this is a kayak that can be paddled with confidence by all skill levels, in all sorts of weather and conditions. The increase in stability that the hull provides also lends itself to fishing, photography or anything else that you can think of that you may not want to try in a round hull design. The extra capacity that this design has can also facilitate gear storage for extended trips. If you are looking for our best expedition type kayak, you will be very happy with the versatility of this boat.
The Newfound Ladder-LOC Strongback is a new method for assembling the forms of a kayak onto the strongback, or, backbone of a cedar strip kayak. Following the guidelines of the assembly system, the amount of time to construct and assemble a Newfound Ladder-LOC versus a traditional 2x4 box beam strongback is reduced from approximately 8-10 hours to 1 ½ - 2 hours, greatly simplifying the process and eliminating a large amount of error. The Newfound Ladder-LOC Strongback is comprised of forms and brackets manufactured from Medium-Density Fiberboard. These forms and brackets are interlocked and when fully assembled, provide a stable building platform for a strip built kayak.
Dimensions: Length (LOA) 17 3/4" Length (LWL) 16 1/4" Beam (BOA) 23 3/4" Beam (BWL) 23-1/2" Weight 43 lbs. Displacement (Capacity) 300 Draft (at Capacity) 4.83 Foredeck Depth 13" Depth at Bow 12.9"