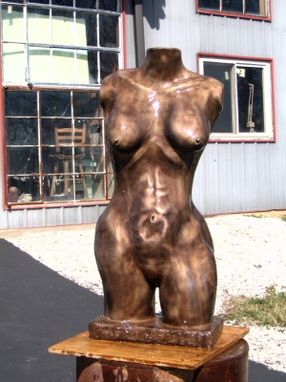 This is one of five castings I'm doing in bronze. It is a life size female torso formed by hand. Her title is The Siren of Spenard. She represents the dangerous and disgusting vices the people can have. Like the Sirens in literary history she calls to her victims with a beautiful attractiveness but there is something wary and uneasy, not quite right with her. This is the nasy underlying quality of vices. Spenard Alaska is known for it's history of prostitution, gambling, drugs and gangs. This sculpture is that enticement to something intially attractive but can cost you your life. She stands as a monument to warn people, particularly men to beware, the attraction is often skin deep and it may call you to your death on the rocks like it did Ulysses men.
Life size bronze, about 80 some pounds, editions 3,4 and 5 of 5 are remaining for sale and to be cast when ordered.
Dimensions: Life size.