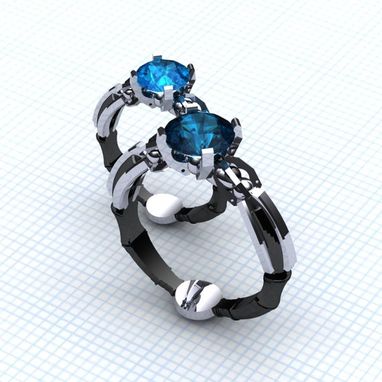 Who needs a bigger key to your heart when you have The Sonic Solitaire XL. This Sonic Screwdriver Ring is much larger than my original design, and comes with a stock stone that is 8mm in size. Embellish with your choice of colored stones, keep it true to Doctor Who colors, add a birthstone, or go crazy and add a real diamond and make this "The Ring" using our custom settings. PMD Diamonds are available. Anything is possible. Please note your stone choices in your order!

Remember any "No Stone" purchase will be devoid of a center stone so you can put your own stone in there (8-8.5mm) I will set your stone for an additional charge of 20.00 you are responsible for shipping your stone to my studio.

Stones available:
- Amethyst
- Citrine
- Cubic Zirconia (CZ)
- Created Emerald
- Garnet
- Green Quartz
- Peridot
- Created Ruby
- London Blue Topaz
- Swiss Blue Topaz
- Sky Blue Topaz
- Created Blue Sapphire
- Smokey Quartz

Initial items will require 4-6 weeks for delivery
(images shown are CGI of actual Live geometry of the ring with a 100% satisfaction Guarantee)
All of our products are handmade
by expert makers.