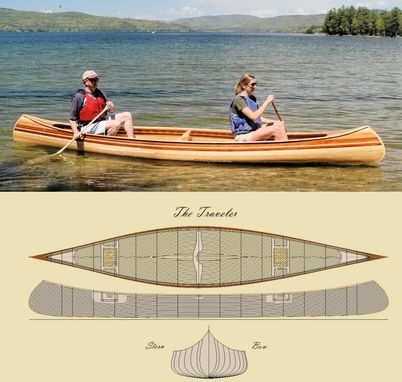 From the initial design to its first launch June of 2005, to its great popularity today, the Traveler canoe has had an interesting history. When Hans Friedel of Friedel Design created this design for us we could see that it would be very efficient. However, it had the typical plumb stems of modern canoes. We asked Hans to change the stems to be recurved so that we could achieve the appearance of a traditional design while still retaining exceptional performance properties. As a result, the traditional recurved stems makes it look like a canoe that has been handed down through the generations, but paddles like a dream. With the asymmetrical hull along with lots of tumblehome, this canoe has it all: the visual appeal of a traditional canoe with the modern hull associated with some of the most efficient canoes. Now you can have both!
Paddlers have told us that this canoe is incredibly efficient. The true test is to get beside another canoe with two paddlers and see how they struggle to keep up. In addition, the Traveler is very stable and has the capacity to carry lots of gear on a trip. The tumblehome allows a wider waterline hull and tucked in gunwales.

The version pictured here has our contour seats and yoke.
Dimensions: Length 17' Beam (BOA) 35.75" Beam (BWL) 35.5" Shearline Beam 33.5" Weight 58 lbs. Displacement (Capacity) 550 lbs Draft (at Capacity) 5.26" Center Depth 12.34" Depth at Bow 22" Rocker 2.25"