'The Wee Lassie Ii' Canoe Kit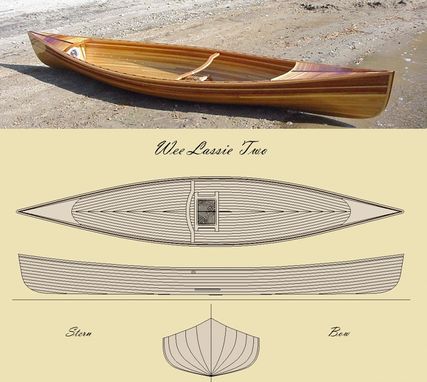 Mac McCarthy wrote Featherweight Boatbuilding in 1998 to assist others in the construction of the two designs most dear to him. He is currently in an assisted living home in Florida where he still works with wood, building boat models. The Wee Lassie may have started out as one of JH Rushton's designs but Mac will tell you that it has gone through several variations to become what it is today. This is a great, lightweight solo canoe for a moderately sized person. The seat is mounted on cleats on the bottom of the hull and it is paddled with a double bladed kayak paddle. Think of this as an open kayak with no cockpit to deal with..

If you are a little heavier or want to take your dog with you on occasion, you might consider the Wee Lassie II. This isn't just an elongated Wee Lassie; it has a V-bottom shape all its own. Whereas the Wee Lassie is very maneuverable, the Wee Lassie II is strong tracking and stable enough to fish from.
Dimensions: Length 13.25' Beam (BOA) 27.61" Beam (BWL) 26.29" Weight 32 lbs. Displacement (Capacity) 280 lbs Draft (at Capacity) 5.5" Center Depth 11" Depth at Bow 16.8" Rocker .5"