'The White Guide' Canoe Kit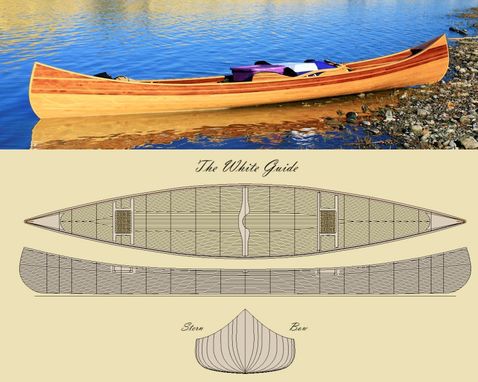 The White Guide is based on a design from the EM White Canoe Co. of Maine. The lines for this version were taken by Gil Gilpatrick, author of Building a Strip Canoe. This is a large capacity, very stable canoe meant for long trips with two paddlers and lots of gear. Even so, the finished strip version should only weigh about 65 lbs.

Two White Guides were built by the students at Hutchinson High School in Minnesota and were taken to the Boundary Waters for a multi-day trip.

The White Guide shown above was built by the Newfound Woodworks' crew and paddled down the Yellowstone River by John Holt.
Dimensions: Length 18'6"' Beam (BOA) 35-1/2" Beam (BWL) 34-5/8" Weight 62 lbs. Displacement (Capacity) 625 lbs Draft (at Capacity) 5.22" Center Depth 12" Depth at Bow 22.78" Rocker 1"