Thick Elvis Dog Tag Shaped Pendant Necklace. Men Or Women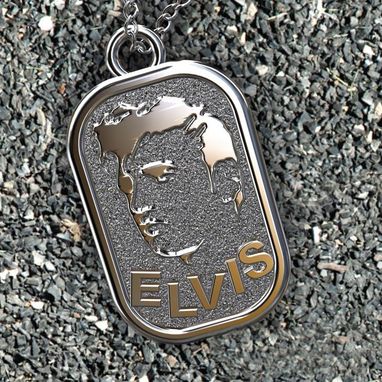 This original dog tag shaped pendant measures 30mm x 20mm and is 2mm thick. It is made in eco-friendly recycled Argentium silver, tarnish resistant, stronger and brither than sterling silver. A stardust texture was added on the background and can be blackened upon request.
THIS ELVIS PENDANT IS IN STOCK FOR $275 and will come with a silver or leather necklace as per your choice.

I also design and create custom and personalized jewelry that are meaningful and long lasting. I can use your design such as a logo, a monogram or a picture to create a unique necklace like this one. The same process can be used to make rings, keychains, cufflinks, buttons, etc.
The price will depend of the complexity of the design, the size and the material.
Feel free to contact me if you have something in mind and I will create your special keepsake!

ABOUT ARGENTIUM SILVER - The finest silver:

PURER: Argentium's 935 and 960 grades set new purity standards for silver. Argentium is always purer than traditional sterling silver.
NATURAL BEAUTY: Plating is prone to wear and tear and is commonly used on silver items to give the temporary illusion of purity. Argentium is the natural color of pure silver through and through.
BRIGHTER: Argentium silver is brighter than platinum, white gold and traditional sterling. It is the whitest of them all.
LONGER LASTING SHINE: Argentium silver is low maintenance, easy to care for and simple to clean.
RESPONSIBLE SILVER: Argentium guarantees traceability of its raw silver. It is certified that Argentium is produced using only recycled silver.
All of our products are handmade
by expert makers.