Ade To Order Thigh High 37" Tall Boots Made To Your Leg Measurements, Size And Color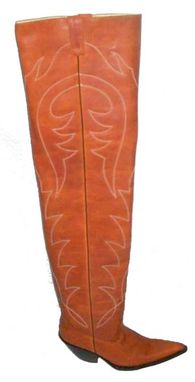 These 37 inches tall boots are hand made and the decorative shaft embroidered could be different or the same used on the pictured boots.
THESE PAIR OF COWBOY BOOTS ARE MADE WITH BEST QUALITY MATERIALS AND ARE HAND MADE, THE UPPER AND SOLE ARE MADE OF GENUINE REAL COW HIDE LEATHER,

THE SOLE IS REAL ROLLED LEATHER AND IS RIVETED.

THE HEELS ARE MADE OF LEATHER AND HAS A no SLIPPERY MAN MADE MATERIAL CAP.

REAL LEATHER LINING.
Dimensions: Box 5x35x30