Thight High Boots Custom Made To Your Measures And Preferences Men Or Woman New.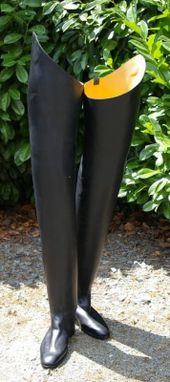 Thight high boots custom made to your measures and preferences men or woman new these boots can be made any height shaft from 30 to 37 inches tall, also can be made with 4 different toe styles, sharp toe, square toe,round toe or extra sharp toe.
also can make them with 1.5, 2, 3, 4 or 5 inches high heels, the heels shape can be done straight cut, cuban or extra cuban.
the color can be Black, brown, white, green, tan , blue, saddle brown, red or any other color please ask for the color of your choice.
these boots are made with first quality genuine leather and leather lining also the soles can be rubber soles or rolled stacked leather.

Dimensions: Box 5x35x30