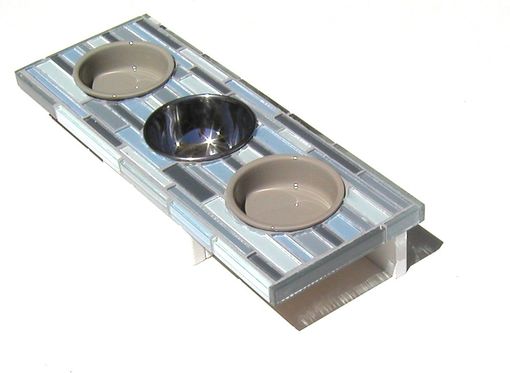 The Three Is Company Diner is perfect for two small dogs or two cats plus it adds a touch of elegance to your home. This posh modern design gives the impression the diner is partially floating. Don't let that cause you to think this diner will tip during eating. Through a clever design, the diner is very stable.

The photos shown are from the last diner sold. The custom order for this design will give you the options to select the bowls to be used, select base color and customize the height.

Bowls: The bowls that would fit this size diner would be the grey ceramic or off white ceramic, or stainless steel bowls. The ceramic bowls each hold 1 1/4 cups of food or water. The stainless steel bowls you can either select from hold either 1 1/4 cup, 2 cup or 3 cup size bowls and SS wide bowls for cats. You can also mix the bowls to be used in this design. Ceramic bowls based on availability.

Materials: Only the best specialty tiles are used on this diner. The tiles are 1/4" thick and are a mix of greys and blues (shown in example). You can also custom order in black and greys; pencil travertine; dark brown textured glass or mix of brown glass or a mix of brown glass and stone tiles. A high grade grout will be used to match and two applications of sealant will be applied. Just follow the suggested weekly cleaning schedule to maintain.

Base: Modern design base has five panels and will be handpainted to match colors selected or left in white.

An elevated dog diner is beneficial by allowing dogs to maintain a healthier posture while eating and drinking, stress on neck, back and legs is reduced. By elevating food and water bowls, digestion is improved and the risk of choking is minimized.

Why hide your dog or cat's diner when guests come to visit? There is no need with a posh diner. Each is a piece of art to be displayed and enjoyed.

I suggest wiping the surface of your diner weekly to maintain a clean surface. A soft cloth such as a microfiber dust and polish cloth is a must for every Posh Diner. Remove bowls weekly to clean the surface throughly.

I take great pride in my workmanship and quality of my products. Custom styles and colors available.

I ship within the continental U.S.A., international shipping rates available upon request. The diner will be shipped by FedEx five day delivery. Custom orders will require between 1 to 2 weeks. Shipping charges are additional.

Sales tax is collected for California residents only.

All designs were created exclusively for Mary's Posh Doggie Diners. No diner mosaic design may be reproduced without the written consent of Mary's Posh Doggie Diners.
Dimensions: Dimensions: 21 5/8"L x (you select height) H x 8" W for small