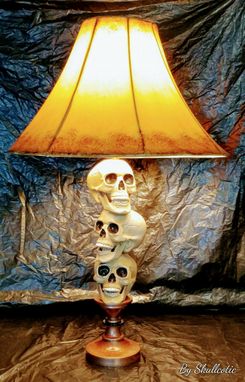 Beautiful 3 Skull tiered Lamp with Faux Leather shade. TOUGH LOOK!
This is a Custom Order Lamp ONLY
This particular item pictured has a hammered copper base, 3 medium Skull stem & a medium Leather shade with colors of tan & darker tan. (NOT AVAILABLE ANY LONGER)

YOU Can order your lamp with base colors of your choosing.
The Skulls can also be painted in the colors of your choice.
The Shade options are cream cloth or Light Tan Faux Leather (one color)


CUSTOM ORDERS:
Contact Skullcotic with shipping information, colors, size, or shade request. Skullcotic will Invoice Buyer via email. Skullcotic requires 1/2 down to begin production & Payment in Full prior to Shipping. Buyer will be notified via email when item has been shipped & all shipping information. Skullcotic will also email Buyer with any questions, pictures of production process etc.Item will NOT be shipped until approved by Buyer. Skullcotic reserves the right to discontinue production at any time during the production process if requirements are NOT met by the Buyer. Should Skullcotic discontinue production of product requested, Skullcotic will only reimburse the amount Buyer has previously paid excluding cost for production time up until the point of discontinuation of product requested by Buyer. Refund will be given by the same method which the Buyer paid.

RETURN/REFUND POLICY
Skullcotic refunds the Buyer only if Product is damaged in shipping. Buyer MUST return product to Skullcotic within 10 Business Days. Skullcotic will issue refund when Insurance payment is received from Postal Service. Refunds are issued in the same method that original payment was received.