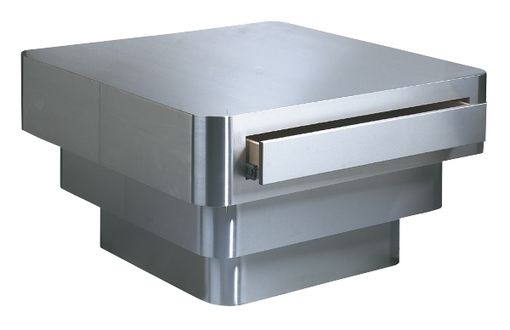 We had a request to make a coffee table similar in design to a pool table. So we scaled down the design, had our wood worker create the wood frames for each tier with a center drawer in the top tier. Each tier and the drawer front was cladded in Satin Stainless Steel. Each corner was cladded in Polished Stainless Steel.

The Tiered Base can be fabricated with (2) or (3) tiers and can be done in Brass, Bronze or Copper as well as Stainless Steel. We offer a variety of finish also. Polished, Satin, Jitterbug, Random Textured, and Etched.

We can remove the drawer for a more seamless look and remove the finished top and add a mounting plate for a marble or granite top.
Dimensions: Top Tier is 36" sq, 24" sq and the bottom tier is 18" sq. with an overall height of 20". As were are a custom fabricator, we can fabricate the Tiered Base to any size you may require.