Tiodhlac: Gift Of The Ghillie Dhu Sword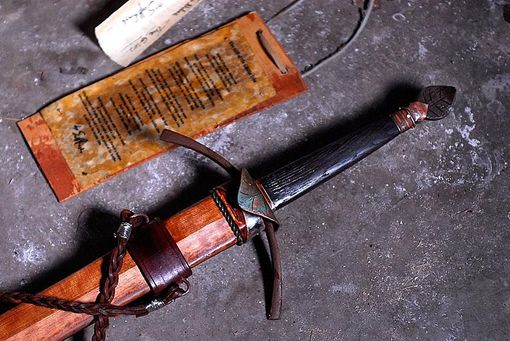 his sword started out as a non-commissioned project that I did in conjunction with a little poem I wrote with my son.. whom is currently in love with the faery world. The details of the sword are all in the poem. The poem is my own creation and deals with the Scottish mythical creature the Ghillie Dhu… a sort of elvish figure who protects birch forests in the northern British isles. So there is a wood grain and birch leaf theme throughout the sword. It was fun to make and I'm happy (and sad) to say that the sword gained an owner during the building process.
Stats:
Weight… 1 lb 14 oz.
Total length… 37″
Blade length… 29″
Point of balance… 3.75″
Point of impact… 17″ from guard
Blade composition… wrought iron sourced from 19th century wagon and Lake Superior ship wreck (steam boat), pure nickel, 1095
Cross guard from ship wreck wrought iron. Leaf chape from copper. Birch bark spacers. Grip is from 'black oak'..old growth stuff harvested from Lake Superior by divers. Pommel is wrought iron sourced from a Wisconsin grain elevator.