Tipi Chandelier/ Ceiling Light Fixture: Victory Ride.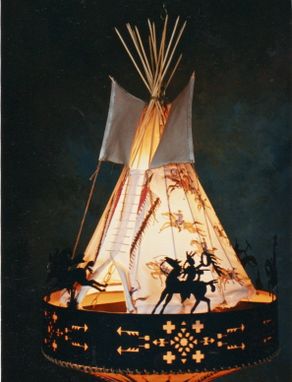 Large handmade leather and iron Tipi chandeliers depicting scenes of Native American life. 6' tall, 36" diameter.

Materials used: Hand painted canvas, cut out steel, plexiglass and rawhide. Depicting Lakota warriors riding through camp after victorious battle with US troops.

This one belongs to a group commissioned for a private luxury log home in PA. This piece does hang from the ceiling once installed. In this photo it is sitting on a table for me to inspect it before shipping it to my customer.

Prices will vary depending on size & design desired. Contact Matt with your needs to have him sketch ideas and give you a quote.