Together We Are Family Hope Inspirational Stones Garden Rocks Custom Order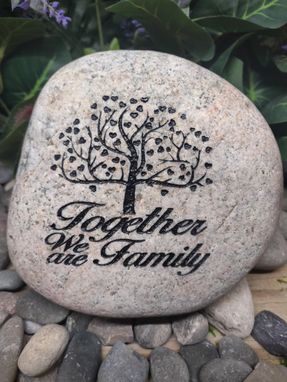 Together We Are Family Loved Ones Always Forever Rock Can add Dates Up to 7" Colors very Etched With Sandblaster Personalized Gift Memory Collectable

The large stone is up to 7 Inches

All Stone are genuine Idaho Rocky Mountain stones Color Shape and Size will vary with every rock!

Do you know what's really cool about rocks and the fact that we engrave on them? The etching will be around long after we're gone. You can have us carve 1000 years of wear on any stone with whatever you want. Imagine what people will think when they see your stone and feel the design is carved out of the face of the rock. They will instantly know that you have a family keepsake that can never go away.

logo Etched with air, not harsh chemicals. We can etch any design into the glass Metal or stone you would like, call for the Graphic of your choice. No two stones are alike so size, shape, and color of stone may vary from one in photos. This sign is made from natural stone (not resin or concrete) so a rugged surface texture, cracks, chips, and color variations may exist and add to the natural character of the stone. For best visibility, set stone upright on bottom edge and prop up from behind with a rock or stake driven into the ground (not included).

Customization is available. Rush Order options available (excludes holiday season) for an additional cost.