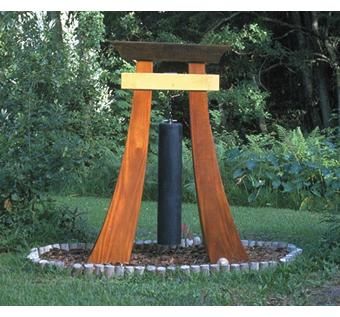 An indoor or outdoor installation, fashioned of mahogany, steel, maple and wenge, supplied with a heavy steel, leather-wrapped mallet, the resultant sound is penetrating, throbbing, and, depending on the enthusiasm with which it is hit, loud. And sustaininig. And really quite--in the old-fashioned sense of the word--awesome.

There are four mahogany legs, two pair which splay out toward the ground in graceful curves. The bell is heavy, heavy-gauge steel.

Beautiful in the snow, however, see:

A note on outdoor placement: This piece has been finished with a marine-grade spar varnish, precious and dear material with a tremendous ability to protect wood from the elements (this a far cry from the cans labeled as such in your local home supply store), however, if placed outside, it nevertheless requires routine maintenance (one per year, twice per year, etc.: this a function of climate, exposure, temperature extremes, and more.) If placed inside, in an atrium, patio or otherwise covered locale, just remember to pledge before the party.
Dimensions: 52"W x 80"H x 22"D