Tree Decorative Storage Tin, Wallet Or Cigarette Case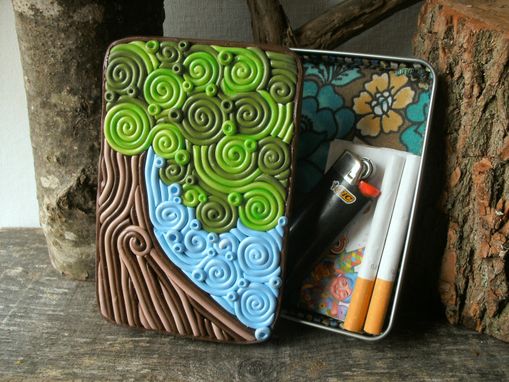 Hand-decorated, altered tin box measures approximately 3 1/2" wide by 5" long and 3/4" thick.

Tins can be used as:
-cigarette case
-wallet
-small trinket box to store jewelry, guitar picks, hair accessories, small sewing kits, paper clips, mints, gum or business cards.
You can even fit your iPod or iPhone (may not fit all models) and earbuds inside to prevent your earbud wires from unraveling in your bag..

This tin is decorated using a process known as polymer clay filigree which involves intricately coiling, cutting and inlaying colorful strands of polymer clay to create images and designs.
This intricate process ensures that even if you request a remake of a previous design, no two pieces will ever be identical.

Choose from one of the pictured designs that we have already made, or challenge us to create a totally unique, special request design/image.