Tri Color Macaw (Red, Yellow, Blue)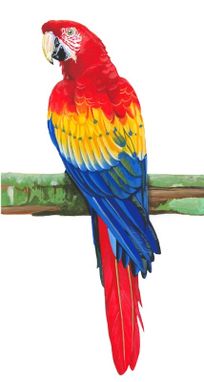 With its three colors, vibrant plumage and raucous calls, the Tri Color Macaw is surely one of the
most colorful and charismatic of all birds. This painting is created by Dwight Kirkland, an artist
who specializes in photo-realistic illustrations, fine art and murals.

An acrylic on unframed illustration board, this piece of art measures 8 inches by 131V2 inches.
Artist retains all copyrights.

Acrylic is a type of paint made with synthetic resin as the medium (liquid) to bind the
pigment (color), rather than natural oils such as linseed used in oil paints.

Black Leaf Studio is the clear choice for your next project. We specialize in hand painted
murals on walls, backdrops, canvas, sets, theatre, scrims, museum, zoo, and aquarium
environments. Please give us a call or visit us on the web to discuss how we can create
your next environment.
All of our products are handmade
by expert makers.