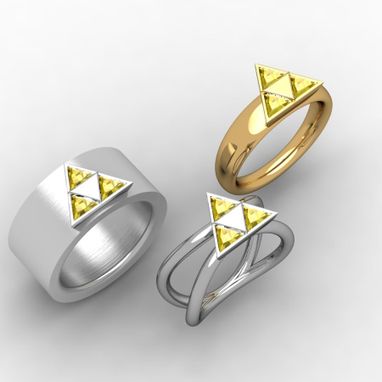 Three examples of Triforce Rings from the Legend of Zelda video games, though many other designs are possible to create your perfect ring!
All of our products are handmade
by expert makers.
Jesse W.'s review

• Nov 3rd 2016

Im very happy with evreything

Braden Anderson's review

• Dec 21st 2013

Paul was a pleasure to work with and I couldn't be happier with the final result. His expertise was invaluable during our design phase, and his professionalism and timing were a great comfort during the creation. I was on a tight time limit and he got our ring to my door with only hours to spare.

elizabethjt's review

• Apr 7th 2013

I am so lucky to have stumbled upon Pauls work as I doubt anyone else could have created this piece with such proficiency. The ring he created for me is a work of art like no other and I am grateful that he took the time and care that he did. I requested this ring be made as I am a huge Legend of Zelda fan and I wanted an item of jewellery that showcased that, but also as a reminder of the importance of balance that the Triforce in the game series tries to promote. What Paul created for me does that whilst still being a stunning piece of jewellery that even non-fans of the Zelda series appreciate and are drawn to. I recommend Paul for any type of jewellery work as I know that he is more than capable and a pleasure to work with. I hope to have more pieces created by him in the future.