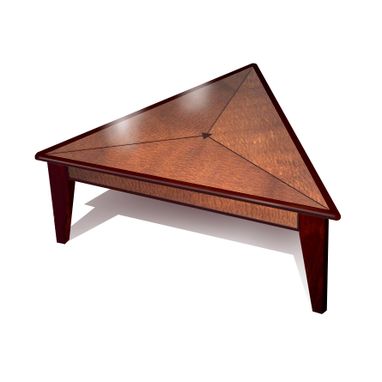 This client had a stunning rosewood Steinway in one corner of his small, Central Austin living room. The piano was in the perfect place, but it limited his furniture arrangement options to the point where a 'sitting triangle' (rather than a 'sitting circle') was really his best choice. After seeing the beautiful piano I knew the wood in the table would have to be extraordinary as well. I chose pommelle sapele veneer, a species that is akin to mahogany but with luminescent, curly grain that reflects light to make the wood look almost three dimensional.

The legs and trim are made of honduran mahogany, and the detail strips and center triangle are of inlaid wenge.
Dimensions: 18" tall, 48" along each side
All of our products are handmade
by expert makers.