Tropical Fish Life: Pillow, Scarf, Wall Hanging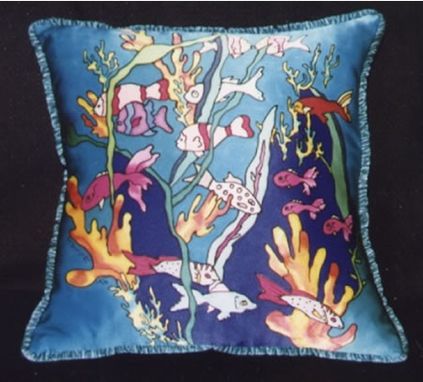 This popular painting was inspired by a snorkeling trip on Kauii in the Hawaiian Islands. Also, I have kept tropical fishtanks in my home for many years. Some of the fish are actual renditions of fish I have seen; others are imaginary - but I wouldn't be surprised to find them in true ocean life.
These silk paintings are all original handpainted using the Serti Resist technique and black, gold, copper or silver resist.

All pillows are backed in Silk Noil with corded edges and a removable inner pillow. Hangings are either mounted or backed with Silk Noil for soft hanging with a sleeve to insert a rod.
Dimensions: Full sized pillows are 16 - 18 inches. Can be ordered as single pillows or in sets of 2-4 pillows. Mini-pillows are 9- 12 inches.

Scarves are 12" or 15" x 60" or 72" or a 34" Square. Edges are hand-rolled.

Wall hangings are custom sized.