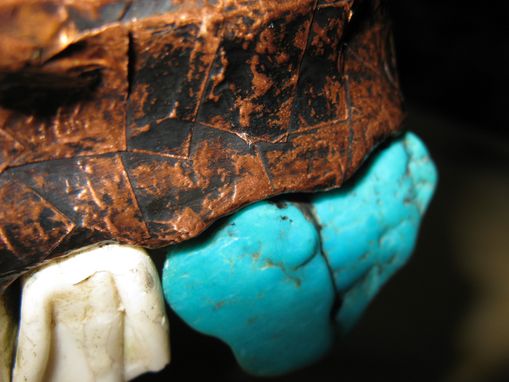 TUMBLE WEED
This is Tumble Weed the first in our Montana Copper state series.

Tumbles grew up in the Flathead Valley and is a longhorn/shorthorn cross....Tumbles is covered with hundreds of small pieces of copper building up a texture yet thin enough one can catch the skull details.

The turquoise blue shades you see that match the gem grade turquoise stone took weeks to produce in layers. One built on top of another. You can see the layers in the detail photo's.

The lower part of Tumbles face is done with the same small pieces of copper. A different patina was built here with browns and blacks that were delicately polished to bring in highlighting. You can see this closely in the detail photo with his turquoise tooth.

The horn base and Tumbles head dress are made from recycled copper. Both have a patina built up.His head dress shows shades of browns, blues and greens. It has turquoise nuggets and a large piece of turquoise on the back side. Tumbles is sealed with a gloss which we normally do not use but he wanted to shine so bright. The gloss catches the light as it hits him adding to his presence and keeping his patina's all pretty.

Tumbles can be seen in at Glacier Perks Coffee House in Lakeside and is up for sale. Any one who purchases him will be helping these local Rollins artists go to the Great Western Show at Greatfalls during the C.M. Russell week. He is set for sale at the same price it will cost us for our space at the show..

Shipping on this is an estimate only since it will very across the country
All of our products are handmade
by expert makers.