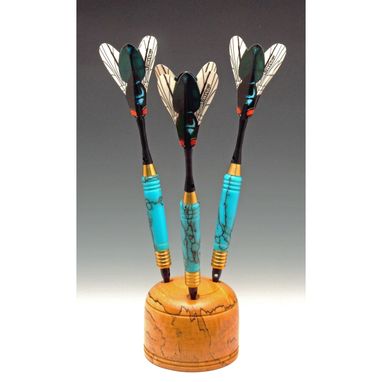 I design my darts and make them as a set one-at-a-time. I use many different materials that I hand turn on a wood lathe. I then pack lead inside the barrel to achieve the desired weight and balance. The darts are made to a weight of 20 grams as I have found this is a good weight for the best flight. They all come with soft tips for the electronic boards and steel tips for cork and bristle boards. A hand-turned stand out of wood is included for display.

The shafts and tips are 2ba and the flights are high quality mylar. I can customize them to your desired weight in a range of 14 gram to 28 gram for most of the materials I use.
One of the most unusual materials I make darts out of is Tru-Stone. This is pulverized stone mixed with resin and formed to look like stone but is much less brittle than the stone would be. They include Turquoise, Jasper, Jade, Malachite-Azurite, Lapis Lazuli, and others.

Dimensions: 3 1/2" diameter by 7" High for set