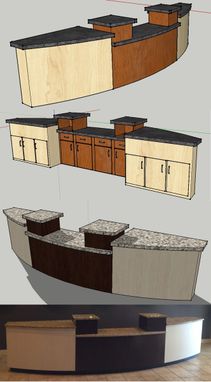 This church welcome center design was made for The Church On Rush Creek in Arlington, Texas.
PRICING INFORMATION:
This church information center is 14 feet wide. Center section is 6 feet wide and 30 inches tall with two towers at 42 inches tall. and each side is 4 feet wide and 36 inches tall. 14' over all width. Laminates/granites can be changed out to change the look to match your environment. Prices are subject to change with out notice. This desk can also be placed back to back with an identical desk to create a multi-directional information center. Prices subject to change.