Two Frogs Sitting On A Fresh Water Lilly Pad - Autumn Green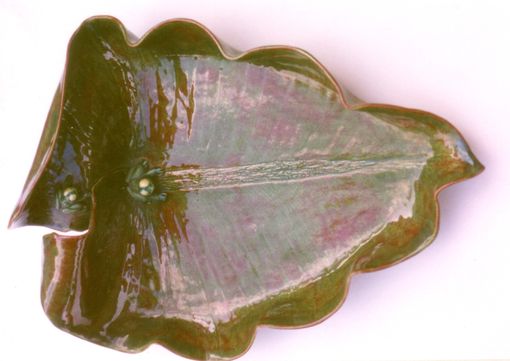 OK, another simple one. Go out onto your local lake in a little row boat. Find and collect a great example of a water lily leaf, one with 2 frogs on it if possible.

Make an impression of the leaf into a slab of china-grade clay using your old wooden rolling pin.

Flip up the lily's stem end and attach one side to the other. Careful, the the thin slab of clay likes to tear apart at this point. Support all of the fluting around the edges with small wads of clay.

Let this structure dry very slowly. If the drying happens too fast the clay WILL split, not good.

Once the clay is leather hard clean the edges with a wet sponge.

Now where did those 2 frogs go? Got away again. So you have to get your circa.1957 frog mold and pour 2 more. Yes, I cheated by using a mold to create frogs. I am not a very good animal sculptor.

Fire everything to bisque in the electric kiln.

Using your bamboo glazing brushes apply 3 coats of glaze to the leaf and the frogs. Do not forget to paint the eyes yellow.

Back into the kiln with the little frogs balanced on the upper end of the lily leaf. If all goes as planned the frogs will sit still and be fused to the lily.

All this work to get a really nice example of Art Deco style ceramic art.

Go for it, join us ceramicists, OR give me a holler and we will create a design that you have in your imagination.
Dimensions: 12" x 9" x 3.5"
Made in Saint Petersburg, FL
All of our products are handmade
by expert makers.