"Ufo" | Oil And Oil Stick On Canvas | 76×106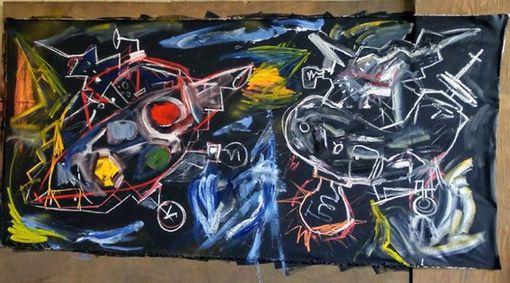 Pedro Vizcaino "Ufo" Oil and Oil Stick on Canvas
76×106

Pedro Vizcaino is and admirer of the lunatic drawings of madmen and of the spontaneous drawings of children. These drawings want to open a gap or a pathway between figurative art and abstract art. They are drawings that reproduce imaginary characters [as airplanes, cars, handguns, shoes] that convey to us in an ironic, humoristic fashion a vision of the environment of society and history. Colored pencils and ink are the skeleton, the structure of these are driven by ideas that buck the socio-political notions that inform most art and art criticism today. The principal theme in his art is the way in which action becomes part of an image as opposed to the more common reverse approach-using an image to depict some kind of action. In is representation of action and its aural spaces Vizcaino combines elements of sculpture, drawing, and painting and he freely juxtaposes the frantic textures of a child's turgid crayon scribbling with images that might otherwise evoke delicacy, eros, and filth.