Unique Custom Turnings & Wine Stoppers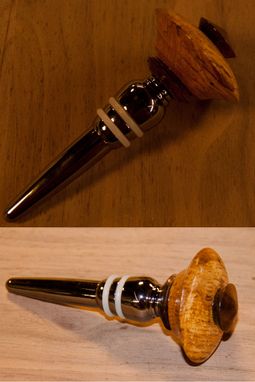 Here comes one of our "green" efforts ... its just unbelievable how much scrap is produced in a shop! We tend to end up burning a lot of stuff, but there's some wood you just CAN NOT sacrifice even if it's used to cook a great steak.

This happens to be a small piece of this mysterious 375 year old oak we came to be working with along with a little piece of English King's Wood Walnut were combined and attached to a titanium stopper to create a very unique object ... which well recorks a bottle of wine!

We really want to use our scrap, but time doesn't often allow as we're constantly working on the main commissions and restorations! Let us know if you may want one of these! Misc wood is available from exotic to standard materials.