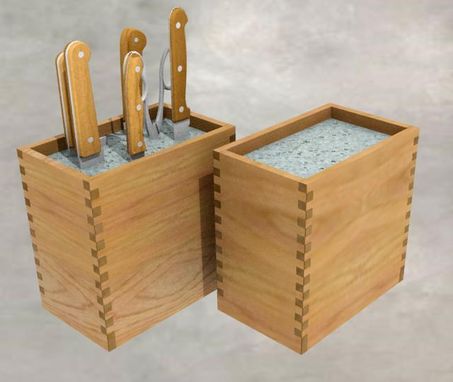 We build kitchens, about 15 kitchens each year. One of the most perplexing storage problems is how to safely store knives so they are handy yet out of the way when not in use. We have tried every variation of knife storage, but none have proven satisfactory.

The tried and true knife block sitting on the counter works well so long as you never change knives. They are designed for the knives they come with and no other. The magnetic strip that hands on the wall or inside a cabinet door works, but magnetizes the knives over time and exposes the sharp edges of the blades to fingers that are not paying strict attention.

The newest kid on the block, the box filled with bamboo skewers or tiny plastic rods, is the closest to perfect, but owners complain about the bamboo and plastic slivers that tend to cling to the knives and have to be wiped off before use. They are also hard to clean. Washing a few hundred bamboo skewers by hand is more of an adventure than most of us want, and the plastic rods can only be washed in the dishwasher and then not too successfully because the water has a hard time penetrating to the center of the dense cluster of tiny rods. And, they are expensive. We have seen custom versions priced on this site for up to $250.00.

After considerable experimentation we found that the best medium with which to fill the box is ordinary uncooked white rice. It holds the knives securely. The kernels to not cling to a dry knife. And, it's cheap and readily available. But, rice right out of the grocery bag does not work until it is sterilized. Un-sterilized rice contains tiny weevil eggs buried inside individual rice grains by mama weevil who chews a hole in the rice kernel to deposit her eggs then seals the hole. Every effort is made by rice processors to remove them, but it's next to impossible to get all the eggs. So we need to sterilized them before using rice as our medium. Don't worry, it's easy, and we will show you how in the instructions that come with your knife box.

Our standard box is 8" tall, 8" wide and 5" deep, the perfect dimensions for placing on a countertop under your upper cabinets, and keeping it out of the way until needed. If the blade of your favorite carving or bread knife is longer than 8", then you might consider our 10' tall box. Either box will hold up to 13 knives comfortably, up to 18 if you don't mind a little crowding.

It is made of any hardwood you choose (although if you get too wild in your choice, like Paddock or Bloodwood, there will be an extra charge). The standards are red and white oak, maple, birch and walnut. We have over 30 standard finishes, or you can order the box unfinished to be stained to exactly match your kitchen cabinets. E-mail us for a finish card.

Our construction uses 3/8" solid hardwood for the sides and base, joined with the traditional box joint for maximum strength. The box is triple coated with a catalyzed polyurethane lacquer for years of unblemished beauty. The box requires no maintenance other than an occasional wipe with a damp cloth. If it get too dirty, Windex does the cleaning job. If the rice medium gets a little shabby after a while, you just replace it (recommended yearly).

Satisfaction guaranteed. If you don't like it, we'll take it back for a full refund.
All of our products are handmade
by expert makers.